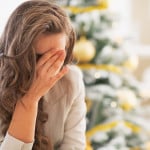 Despite everyone's best efforts, it is a hard fact of life that some relationships simply can't survive a sex or porn addiction. Even after second chances, extensive counseling and a real commitment to making it work, sometimes one partner's addiction is simply too much for the relationship to bear – and it ends. Very few women are able to make a completely clean break from a marriage or long-term relationship, and that is never truer than during the holidays.
For many women out there, this might be the first holiday you've spent alone. Perhaps your partner or husband has moved out, or perhaps your kids are spending part of the day at their father's house, leaving you by yourself. You haven't felt "single" in a long time, and that feeling can hit especially hard during the holidays.
One of my jobs is to help women cope with this new and uncharted reality.
Feeling Left Out at a Vulnerable Time
There's no getting around the fact that advertisers are constantly trying to sell you on the idea of togetherness and love during the holidays. You want that perfect picture of a loving couple or happy children, and you know you're not getting it, thanks to the circumstances you're in. It's okay to feel sad and angry about that, because what you're going through really is difficult.
The women I work with often have anxieties about many things during the holidays. Among them are situations like going to their first family dinner alone, sending their children off to their ex's house, worrying that the ex won't honor boundaries or schedules with the children, not having enough money to provide a nice holiday, and simply facing the day alone.
These are all valid and real concerns, and part of my job is to help you through them, but here's the big secret to it all: nobody has the answers but you. I could lay out a step-by-step plan of what I think you should do to maintain some measure of peace during the holidays, but the truth is that only you know what you need. I'm here to help you figure it out.
You Have to Care for You
Women take on a lot of the holiday stress, regardless of what situation they're in. Even people who anticipate having a perfectly lovely holiday might feel a lot of pressure to get things done on time, or to keep up with the hectic pace. But a woman facing her first holiday alone is especially in need of self-care, because there is nobody else around to do the caring for her.
So, when I sit down with a woman in this situation, our goal is always to find out what she needs. Which aspect of the holiday is giving her the most anxiety, and how can we address it constructively. If she's going to be spending the day alone, we work to fill her time with some kind of structure so that she doesn't spend the entire day dwelling on a situation she didn't cause, and that she can't change.
The partners of sex and porn addicts are balancing between two situations during the holidays: they can come up with coping strategies and do their best to carry them out (and be prepared to forgive themselves if they can't stick to the plan) or to let the sadness and anger they're feeling make their situation even worse.
Your Feelings Are Valid
Everything you are feeling right now is real. If you are angry, you have every right to be. If you are sad, you have every right to be. Our goal is not to wave a magic wand and make these feelings go away. They won't.
What we aim to do instead is give you the outlet you need to get these feelings out into the open, and give you the tools you need to cope with them. It is an extremely difficult time right now for many women, and if you're finding that you're having trouble facing it all alone, you don't have to.
At Compulsion Solutions, there are two sides to every addiction. There's the addict, and then there are the others who are hurt by the addiction. We haven't forgotten you, and we know that this is the time of year when it's especially important to say that. Reach out. We are listening.